The Easy-To-Work-With, Experienced Pro:
Matt has been appearing in front of audiences for 20 years. Trained in improv, with a Bachelor of Arts in Theatre, the real magic is how he brings the signature spontaneous, quick comedy style that has kept him in-demand on screen, to his live shows, interacting with your guests for a personal, one-of-a-kind, award-winning experience.
Awarded the title of "GREAT ILLUSIONIST" by PPAC, one of the country's top performing arts centers, duringThe Illusionists Broadway tour and"FIRST PLACE" & "PEOPLE'S CHOICE" by his peers at the legendary "Abbott's" national magician's competition, Matt's proven track-record and smart, original show will make your event one to remember: GetMattFast@gmail.com or 508.965.3489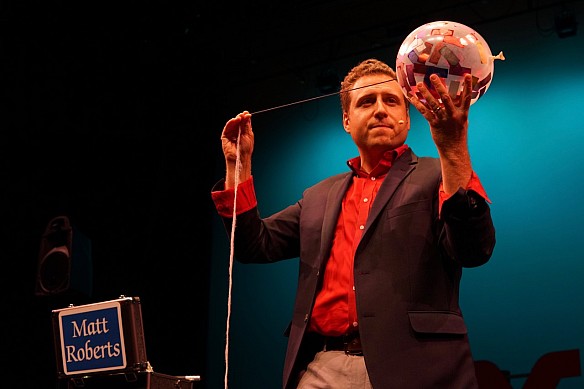 Matt travels nationwide for bookings. He was honored by his peers with national awards at Abbott's 75th Stage Competition, a legendary event for magicians from around the world. He was hired to later perform there alongside top performers from Hollywood & Las Vegas, including some of his heroes: veteran corporate magicians and Academy Award Ceremony entertainers Dana Daniels & Mike Caveney. After seeing Matt's act from the front row, Las Vegas-headliner Mac King said, "you killed!"... See photos here.
Other career highlights include a 10-year working relationship with The Jim Henson Company, a 600-performance world-tour with VStar Entertainment (now owned by Cirque Du Soleil), a standing ovation at The International Portuguese Music Awards, granting a wish with The Make-A-Wish Foundation and performing at Paul Newman's Hole In The Wall Gang theater. You'll be in good company: GetMattFast@gmail.com
Clients trust Matt Roberts...on stage and on screen. Here are two-dozen reasons why:
"Feedback from our employees is that this was the best ever...and I can truly say it is due in large part to your hilarious and amazing magic show! You were perfect for our eclectic group, keeping everyone sitting on the edge of their seats the entire time and I highly recommend you for any occasion... You were a pleasure to work with...so easy and dependable. An event planner's dream. Thanks for making me look good and thanks for giving our employees a fantastic afternoon they will never forget!" -Chris June, Executive Assistant to the President, Pepperidge Farm, Inc.
"His talent as a magician was truly astounding (we were very impressed) and he was extremely funny as well! The show was the highlight of our day! I would highly recommend Matt to anyone looking for a great show. A++++++" -Ann Warwick, Fuller Performing Arts Center
"Matt performed at our company finance meeting and was a huge hit! Our employees were truly entertained--his magic was top-notch and his comedy was clean and very funny. We received great feedback from employees who really enjoyed the performance. Everyone wanted to know where we found this guy! In addition to the fantastic show, Matt was a pleasure to work with. On the day of the meeting, Matt was punctual, professional and very easy to work with. I would recommend his show for any occasion, you won't be disappointed!" -Lisa Videtto, Manager, FM Global Finance
"Just wanted to let you know how much everyone enjoyed your magic/comedy show...Your presentation was so entertaining; it was very funny and highly engaging. They say you can't please all of the people, all of the time but I think we did! I only heard positive comments after the event. Thanks again for a great show!" -Rob Beams, Vice President Supply Chain, Ocean Spray Cranberries, Inc.
"I hired Matt for our annual appreciation party this year and of all of the entertainers we have had in the past 9 years we've been doing this, he was the best by far. He was also incredibly accommodating – we decided on a date pretty late notice. There were approximately 90 people in attendance and I heard it from MANY of them "this guy outdid all the others…we want him back next year!" You will not be displeased in hiring him for your next event, I assure you." -Amy S. Moser, Southeastern Asset Management, Inc. ® Advisor to LongLeaf Partners Funds
"I had so much positive feedback from your magical performance! You were entertaining, intriguing and thoroughly enjoyable. It made our Company Meeting an "event" and one that our employees will remember for years to come. Thank you again for your time and great performance." -Liz Matthews, National Resource Management, Inc.
"Your skill of knowing just who to pick from the audience to assist you with your act was phenomenal – it really added to the fun and helped personalize the entertainment. Our associates were talking about it for days afterwards and are hoping we will be able to have you back next year. On a personal note, being an unexpected part of your show was the highlight of my year." -Darlene Burke, Bank of America
"Matt Roberts is not only truly gifted at his craft; he is also a wonderful person. Matt performed at our corporate dinner and he was a huge hit with all our guests. He was like a perfect drink or dessert at the end of a big dinner...just enough, not too heavy, easy to digest. And he was FUNNY! Matt worked with me from day one to personalize the show and he arrived at the venue early and was extremely professional, personable and patient. He put a smile on even the most stern face and he was the perfect partner in my facilitation of the night's events. I will most definitely use him in the future and recommend him to everyone I know! Thanks Matt!" - Jennifer Ceolinski, Associated Equipment Distributers Conference
"I just wanted to be sure and take a moment to thank you so much for working our event last night! You were a huge hit with the entire firm! Your sense of humor, intelligence and awesome magic really was the icing on the cake in making our event amazing! - Julia Goldberg, Monitor Clipper Partners LLC
"Your talent for combining magic with comedy was outstanding. Our sales force thoroughly enjoyed the show...I'm still trying to figure out how you read my mind! Your audience participation skill, along with your talent to keep everyone's attention, is definitely a reason that we would recommend any organization to use you at their next corporate event."- Danielle Greeley, Executive Assistant, IKON Office Solutions
"Great job at our holiday party. Everyone just loved you." - Brown University Faculty
"I would highly recommend him...Everyone was very impressed...You made our corporate party go from being good to great!" - Katherine Coveney, Deloitte
"Thank you for a fun and fantastic performance! People really enjoyed it and are still dazzled by your talent! You have a very nice and professional way of making magic fun and funny - and keeping people engaged! It was great fun see my manager up there for the finale - thanks for picking on him a bit - (in your nice way of course:). Thank again and I will be sure to pass the word along for a great and unique way to "spice" up a meeting!" - Amy Swift, Biogen Idec
"I've been getting a lot of kudos this morning thanks to you! Your act was a great way to top off our holiday office party last night. You are a great addition to any gathering and I'll be passing your name along with high praise to family and friends." - Debbie Peck, First General Realty Corp.
"It was wonderful to have you perform at our Small Business Holiday Gala. Guests and staff commented on what a great job you did. We would recommend you to anyone looking for a quality Magic/Comedy Show. We will definitely keep you in mind for future events." - Rick Treacy, Owner-Executive Chef, Michael's Banquet House, Latham, NY
"You did a wonderful job entertaining us and I, of course, did get great reviews." - Carri Burns, Opechee Construction Corporation
"Matt provided entertainment to a group of 150 employees. He was funny, professional and very entertaining. I was, quite honestly, a bit nervous about this as we hadn't done anything like this before. My concerns were unnecessary though. Matt was a great hit. Everyone enjoyed themselves and the following day, I received dozens of thank you notes from employees saying this was the best dinner yet. I will definitely invite Matt back in the future" (and she did!) - Janice Dickstein, ISO New England
"Everybody at the company holiday party loved Matt's show. It was so much fun and so good to laugh. The audience interaction was superb!" - Joanne Cavallaro, Venture Financial Systems
"We would like to thank you for such an awesome performance at our annual Holiday Party. We had numerous comments come to us afterward complimenting you and your performance. The "How did he do that??" comments didn't stop for days. We will definitely keep your information on file for future functions that we have." - Julie Niggebrugge & Judy Flinkman, RC Knox & Company
"Thank you for performing your unexplainable magic at our office...still amazed and wondering how you did it. It proves that magic is definitely not just for kids!!" - Heidi Demers, MIT
"I just returned from our convention in Boston and wanted to say thank you for the great performance last Tuesday evening at our annual Sales Dinner at the Wyndham. I have had many people call me to say how much they enjoyed your show. Your clean brand of humor and magic, as well as your enthusiasm made for a great performance--again Matt, thanks for making our sales dinner extra special. -Jack Connors, Brockway-Smith Company (BROSCO)
"Matt was accomodating, friendly and funny. He was able to work the crowd and interact with all types. It was a fun event and we would definately use Matt's services again." - Sherri Capone, Webster Bank
"I recently had a Teambuilding event with my Operations group and was a bit skeptical at first as to whether having a magician would "work" as an introduction to our ability to tackle the impossible. Well, I could not have been more please with Matt's act as he worked closely with me on integrating my theme into his presentation. He was punctual, prepared, fun, engaging, professional and the group loved his act. I would highly recommend Matt!" -Ward Naylor, i-Health
"Matt Roberts is an incredibly engaging Magician and Comedian. His illusions are top notch. His comedy is equally impressive and I would not recommend having a mouthful of water while he is telling a joke because you could end up spraying it all over the audience in front of you, as I did when I was watching his show. Matt is a talented professional entertainer and is a pleasure to work with, I highly recommend his show for any occasion." - Brian Hornby, Program Officer, Office Of Cultural Affairs, City of New Haven, CT